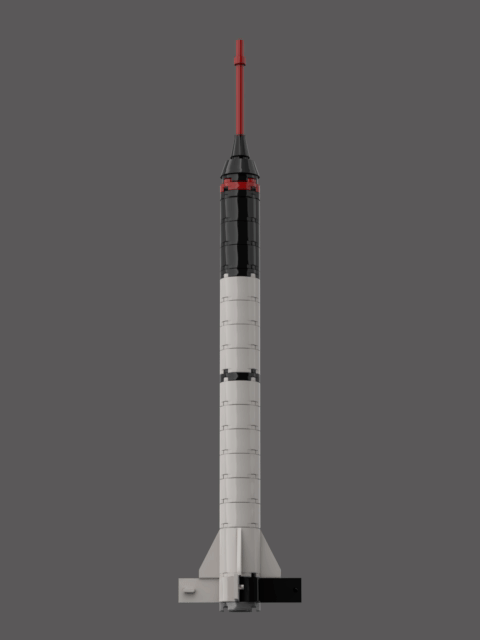 Mercury-Redstone 3, or Freedom 7, as was the first American human spaceflight. On May 6 1961 Astronaut Alan Shepard flew a 15 minute sub-orbital flight in the one man Mercury spacecraft. It came just 3 weeks after the Soviet Union launched the first man in space, Yuri Gagarin, who completed one orbit on Vostok 1.
Gemini-Titan 3, was the first manned launch in the Gemini Program sending 'Gus' Grissom and John W Young in the 'Molly Brown' which flew 3 low Earth orbits on March 23, 1965.
Designed at a scale of 1:110 and with a low part count of just 127 this could be a pocket-money priced set. The Mercury Redstone was a single stage rocket, but the Titan was a two stage and the model is designed to separate and the Mercury and Gemini spacecraft are also removeable.
These two rockets are perfect to display alongside the LEGO Saturn V and really show how far rocket science progressed in the 8 year between Alan Shepard's first flight into space and Neil Armstong, 'Buzz' Aldrin and Michael Collin's journey to the Moon.
If you like the idea of adding to the 1:110 scale space exploration range then you may also like my other NASA projects
NASA: Skylab and NASA:Crawler-Transporter – please check out the updates too.
Skylab – https://ideas.lego.com/projects/7d001367-12e0-473e-aee5-e6af83e4e6a6
Crawler-Transporter – https://ideas.lego.com/projects/0f8efc2a-ce0a-4285-9f2b-036bf3eb9f38
Thanks for looking.