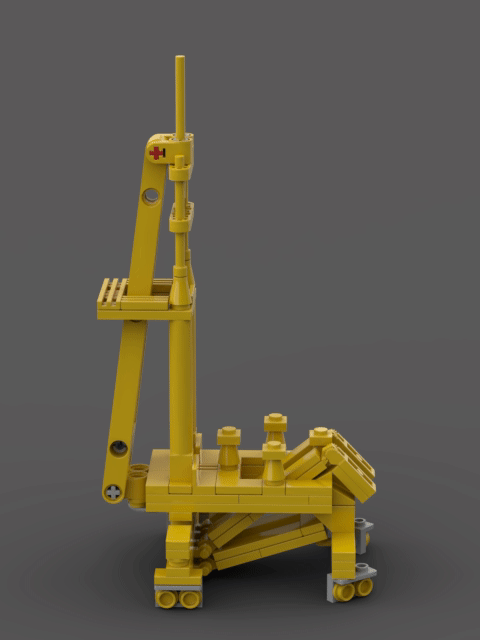 As part of the Rocket Gardens update I included the 'Little Joe II' rocket on its launcher. I have been asked about the build instructions for the it.
NOTE: Many thanks to Wolvesfan08 who let me know that they were unable to get the yellow 14719 (the 2×2 right angle tile) shown in step 5, and suggested  substituting with 2 yellow 3069 and 2 yellow 3070 (1×2 and 1×1 tiles). This would be an acceptable substitution and I recommend placing the 1×2 tiles across the plate joins to make the build as strong as possible. My process for building is to first go through my boxes of bits and then use the secondary market to complete the build. In this instance I had the yellow right angle tiles in my bits box.
This is a more complex build than the rockets, the finished model is sturdier than it looks but is intended for display rather than play. There are a couple unusual connections and you may find it easier to take off parts of the build as you make adjustments. There are notes on the instructions to help with the trickier parts of the build. Hopefully the photos of the finished model will also be of some help.
The real launcher has a lot of girder work which I have tried to respresent the best I could in LEGO, there are limitations with the available parts, but I have tried to capture the main features of the real thing.
Finding that the crane jib parts fitted through the hole in the tower's platform was a very pleasant surprise.