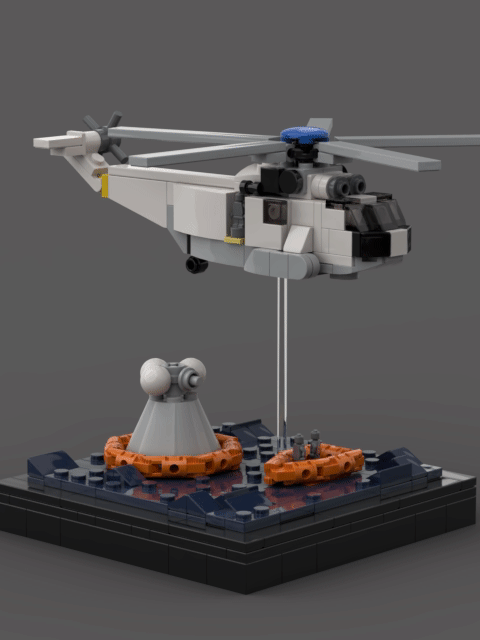 Model Authors
Helicopter: original idea by Mark Balderrama, modified by Adam Wilde, Sebastian Schön, Kaero, Matthew Hildebrand, Wolfram Broszies and Nico Daams.
Base with Waves: Kaero
Instructions: Kaero
Model Information
Scale: 1:110.
Model version: 18 (.io format).
Instructions version: 4
Instructions license: Creative Commons Attribution 4.0 International (CC BY 4.0) 2019
Instructions generated using Studio 2.0 by Bricklink
Kaero's list of all possible MOCs of rockets made by the lego community:
https://kaerodot.gitlab.io/lego-rocket-mocs/
The model is based on following historical photo (description by https://www.foxnews.com/science/apollo-11-recovery-uss-hornet-president-nixon):
The model is an enhancement to the 21309-1 NASA Apollo Saturn V set.
To build this model, you should use some parts from the 21309-1 set. All the parts that can be used from the set are shown in the instructions in green color.
The helicopter can be built in two configuration:
In fly with retracted wheels and connected to the transparent stick.
Stand alone with front wheels down and without transparent stick. In this case the base with Apollo module, sea and inflatable boat does not makes sense.
Please take a look into the instructions for all the details about parts needed for selected version.
You can add stickers with the famous 66 number. Stickers are part of pdf instructions. For placement see figures: